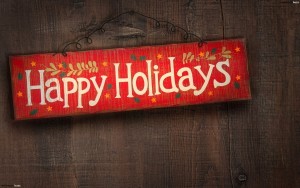 Thanksgiving, Christmas, and New Year's make up what we call the Holiday Season, but the truth is that there are reasons to celebrate throughout the entire year; and as the year comes to an end, we would like each of you to take a moment to reflect on what "celebrations" you had.
At Elk Ridge there is a lot to be thankful for…
We have our Elk Ridge family, and we have our families that we go home to each night.

We have built some beautiful homes for a lot of great people that let us be a part of their lives.

We have built and remodeled numerous buildings and properties that have impacted the lives of hundreds of people around the area.

Our business has grown.

Our business has changed.

Our reach and ties to the community have strengthened, allowing us to make new friends and connections that better helped our neighbors in need.

We have become the liaisons for thousands looking to move to our neck of the woods from all over the country. Some have moved and now live in an

Elk Ridge

custom built home, some are here and waiting for their

Elk Ridge

home to be finished, some have moved and live in a different house or apartment (not recommended by our personal and biased experts), some never moved at all; but all of them came to

Elk Ridge

first looking for information.
Why come to us first?
Because people know us (even if they never met us face-to-face) and they trust us.
We started as a family business, and we still are a family business. That will never change.
Thank you for letting us be a part of your lives.
From our family to yours…
Merry Christmas from Elk Ridge Custom Homes!!!!