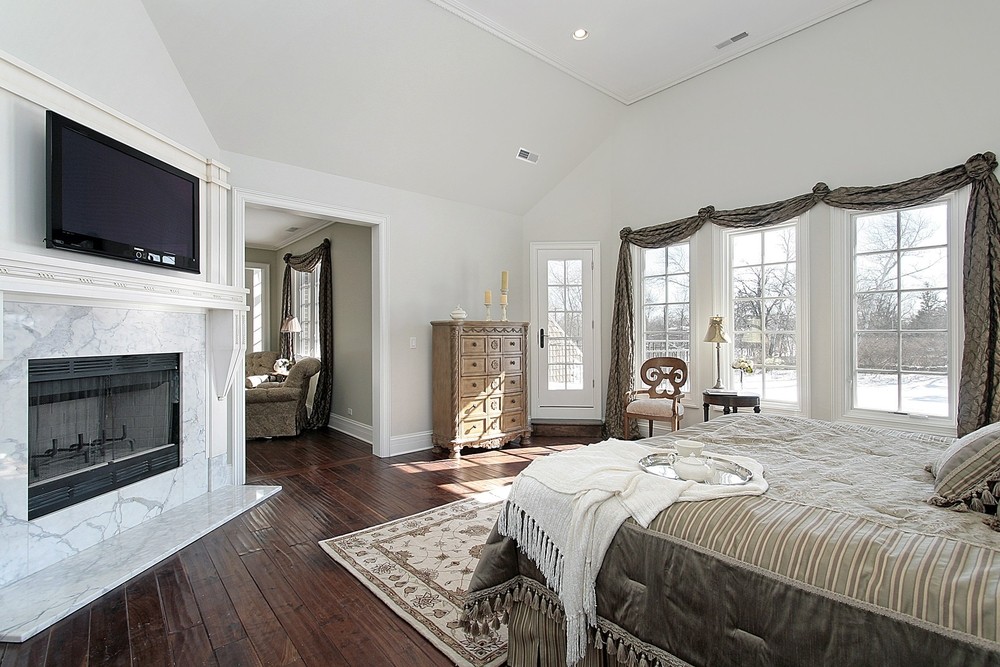 The great thing about a custom home is that you can style it and decorate it as you want. One of the spaces where people like to focus the most and add their personal touch is the master bedroom. We usually don't get to spend that much time in our bedrooms, but there's something about knowing that there's a beautiful room waiting for us at the end of a hard day.
Although we're sure you have plenty of great ideas for your master bedroom, check out these tips before you start decorating the room.
Create a Wall of Windows
Sunlight makes everybody happy. There's a sense of warmth when you pull the curtains and let sun's glow flood the home. So, why not take advantage of this and let the sun bathe you in its light every morning? Elk Ridge has a team of Vancouver and Portland custom homebuilders who can make your master bedroom feel like the next best thing to paradise.
Add a Fireplace
A fireplace can make the master bedroom feel more cozy and intimate, especially during the long and cold winter nights. If you want to add a fireplace to your bedroom, make sure you place it above the living room to make it easier for your custom homebuilder to design it.
Build a Spacious Closet (w/ dresser)

Sure, a minimalist closet would look good in your master bedroom, but imagine how it would be to have an entire room for your clothes and shoes. Place a sofa inside the closet to make every morning more comfortable as you're getting ready for work.
Add More Charm with a Balcony
Maybe you don't have enough money for a wall of windows, or your master bedroom is positioned so it doesn't really get that much sunlight. You can build a balcony instead and add a touch of charm to your master bedroom.
Turn It into a Royal Suite
The master bedroom will feel incomplete without a fancy bathroom to go with it. Ask your custom home builder to add a Jacuzzi or a beautiful shower with transparent walls. Pay close attention to size as well. If you want to add a luxury touch to your master bedroom, choose a big bathtub with an innovative design.
Connect It with a Sitting Room
There are mornings when you are ready to get out of bed but don't feel quite like going to the kitchen to start the espresso machine. For those mornings, a sitting room that connects the master bedroom with the rest of your house would be just perfect. Add a comfortable sofa and maybe some books to start your morning right.
Make It Your Ultimate Reading Retreat
A bay window can turn your master bedroom into a perfect reading retreat. Add some flowers, a comfortable sofa and be ready to spend your weekends captivated by your favorite books.
If you want to build your perfect home or get ideas for your master bedroom, get in touch with the custom homebuilders at ELK Ridge Custom Home. For more inspiration, download our free eBook below.